Installing, Repairing, Wiring - Southern Voltage Can Handle All Of Your Electrician Needs
An electrician's job is to get electricity from one point to another safely. As simple as it sounds, it's a complicated job and requires a certified, experienced professional to manage. At Southern Voltage, our electricians are knowledgeable in both residential and commercial electrical services. So, whether you need a new ceiling fan installed or an entire office building wired, we can provide the expert and the expertise.
What Electrician Services Does Southern Voltage Offer?
Southern Voltage can provide a full range of residential and commercial electrician services. What we do includes:
Electrical Panel Evaluation and Repair
Electrical panels (also called breaker boxes) are the core of any building's electrical system, and their proper function is essential for safety. From the electrical panel, parts of the building's power supply can be shut off, and if the building is subjected to too much electrical flow, the panel will automatically shut off to prevent damage.
As breaker boxes age and wear, their ability to protect the home fades. If your electrical panel is failing, it may cause the home's wiring to overheat, which presents a fire hazard.
Southern Voltage can evaluate your electrical panel's performance and determine if repairs or replacement are necessary for the long-term health of your building's electrical system.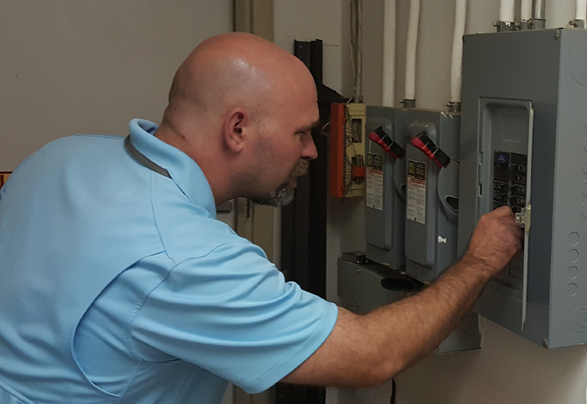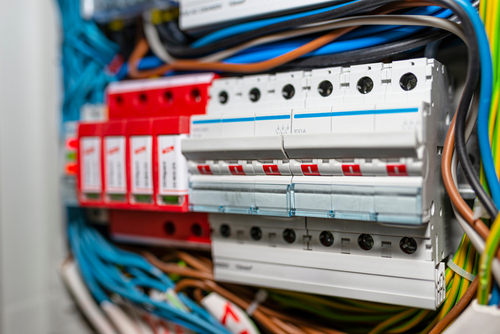 Electrical surges result from sudden spikes or interruptions in electrical flow. While they can be caused by lightning or a branch falling over on a power line, most surges are caused by heavy load switching or from defects in the building's electrical wiring or components.
When a surge occurs, it can "fry" sensitive (and typically expensive) electrical components like computer and television circuitry, kitchen appliances and home security systems.
The only way to defend against this is with surge protection. Surge protection can be installed at a single outlet, or it can be applied to the entire home. Once in place, the surge protector automatically kicks in when an electrical surge is detected, and the excess energy is safely redirected to the home's ground connection.
Code and Safety Inspections
Southern Voltage can inspect a home or business to determine if it is "up to code" from an electrical safety standpoint. During an inspection, our electricians will assess the building's electrical components, including the electrical panel, the wiring, outlets, the ground connection and any protective devices, such as surge protectors and GFCI outlets. If any code violations are spotted during inspection, our electricians will recommend and can provide a fix.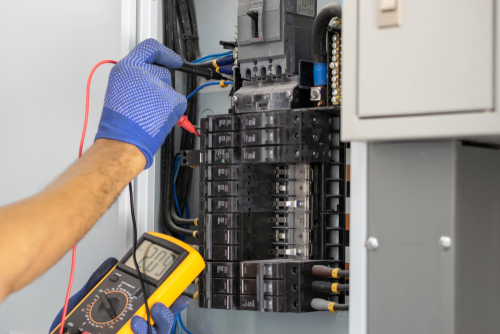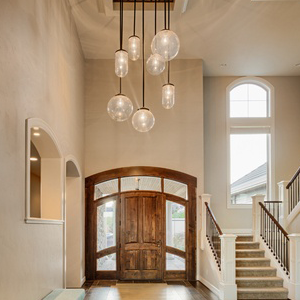 Much of a building's electrical infrastructure is dedicated to the lighting, and wiring new lighting can be difficult. Whether you're installing a set of recessed fixtures for your home or retrofitting LED lighting into an existing commercial lighting system, Southern Voltage can handle fixture and lighting component installation (transformers, ballasts), and wire the system.
Aluminum Wiring Repair or Replacement
Older homes (typically those built before 1960) may be wired using aluminum wiring. Compared to modern wiring, aluminum wires are considered inferior as they are more likely to rust, corrode and suffer damage due to thermal expansion. If your property is still running on aluminum wiring, it can lead to a variety of problems. Fortunately, Southern Voltage can identify aluminum wiring damage and provide repair or replacement.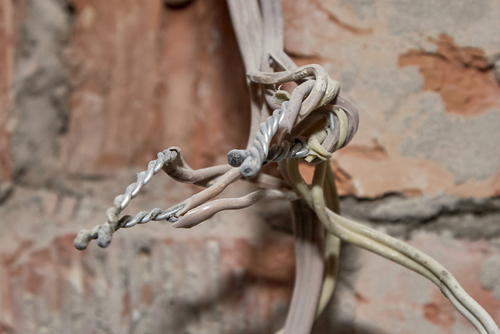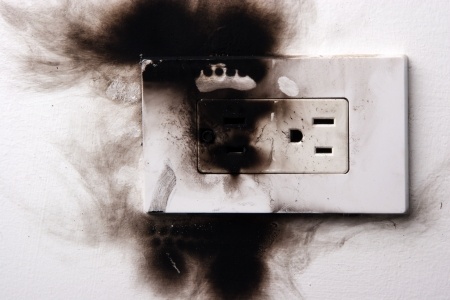 Troubleshooting and Repair
When electrical issues emerge, it's rarely clear where they are originating from. Discolored outlets, flickering lights, exposed wiring, a circuit breaker that trips constantly – these are all signs that your electrical system is in need of troubleshooting and repair. Southern Voltage can pinpoint where the electrical system is compromised, offer solutions and execute them.
What's the Difference Between a Residential and Commercial Electrician?
Residential electricians, like the term suggests, spend most of their time working inside homes and apartments. As residential properties run on single-phase power, residential electricians typically handle single-phase systems that output between 120-240V. The scope of a residential electrician's job tends to be smaller, focusing on services like installing home lighting, appliances and control systems.
That doesn't mean residential electrician work is easier, though. Both residential and commercial electricians adhere to stringent safety regulations that specify everything from the wiring an electrician can use, to the electrical jobs a particular technician is allowed to handle.
Commercial electricians spend their time providing electrical services to businesses and their facilities. Much of this work involves installing and maintaining large, multi-phase systems that run on higher voltage. Multi-phase systems are more complex, so commercial electricians are expected to carefully check technical blueprints and utilize additional technologies during installation.
A commercial electrician usually has to consider more when installing electrical equipment. Commercial systems are tightly regulated and must be installed with safety, efficiency and accessibility all in mind, as commercial equipment must be regularly inspected.
Choose an Experienced Electrician That Backs Their Work
An electrician's work involves risk, but choosing an inexperienced electrician is even riskier. During certification, electricians learn how to mitigate the dangers involved in electrical services, which also protects their clients. A botched repair job will not only cost you more in the long run, it also represents a fire risk.
Southern Voltage Offers Electrician Services to the Entire Houston Area
Southern Voltage's work is backed by a master electrician with more than 20 years of electrician experience in the Katy and Houston area. We're deeply familiar with the kind of work that Houston homes and businesses require and we're local, so we rely on positive word-of-mouth from our clients. And our Houston-wide availability, attention to detail, experience and cost has earned us many happy clients, both residential and commercial.